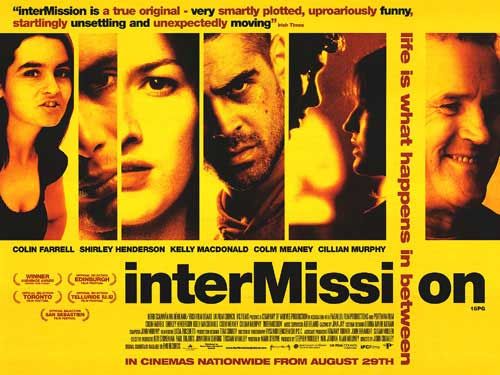 Though it would obviously be foolish to claim that Intermission owes more of a debt to something like Paul Thomas Anderson's Magnolia than to films like Pulp Fiction and Snatch, Intermission is nonetheless much more a film about people than it is a self-consciously stylish showcase for violence and other things that its director finds cool. Director John Crowley and writer Mark O'Rawe (the not as successful Perrier's Bounty) feature a variety of interlinking characters and plotlines but they never forget that the film is ultimately just about people trying to get by in life and love.
Small-time thief John (Cillian Murphy) decides to test the sincerity of his girlfriend Deirdre's (Kelly MacDonald) feelings for him by breaking up with her. This all backfires when she is left broken-hearted and shortly afterwards takes up with a married man Sam (Michael McElhatton), who leaves his wife Noeleen (Deirdre O'Kane) devastated. Noeleen is encouraged to go out and try to find another man. Meanwhile, John's love-starved best friend Oscar (David Wilmot) becomes increasingly depressed and his other friend Mick (Brían F. O'Byrne) is left unemployed when a small boy (Taylor Molloy) throws a rock through the front windshield of his bus, resulting in a remarkable crash involving Deirdre's mother Maura (Ger Ryan) and sister Sally (Shirley Henderson), which sparks the interest of a documentary crew led begrudgingly by Anthony (Rory Keenan) who would much rather be filming the tough life on the streets of policeman Gerry Lynch (Colm Meaney) Gerry has it in for local hood Lehiff (Colin Farrell), who may have a proposition for John and Mick.
Intermission is a reasonably convoluted film but it doesn't let itself get too bogged down in exposition. It is primarily the story of John and Deirdre with additions from a supporting cast, who have their own problems, some not as interesting as others but there is a general feeling of a close-knit community in an optimistic post-Tiger Dublin. If it isn't the most taut plotting, it is forgivable since life is never simple and because the film romps along at a nice pace and a likable and easy-going tone. Cillian Murphy and Kelly MacDonald do well, but their parts are somewhat underwritten to make room for all the other characters, many of whom are very good. David Wilmot has a larger role here than many of his more recent roles and proves to be a very likable presence, as does Brían F. O'Byrne, Michael McElhatton and Deirdre O'Kane. Colm Meaney plays his typical role, the hard man who doesn't realize how funny he is to other people, but he does it well here thanks mainly to a good script – something clearly missing when he took on similar roles in Whole Lotta Sole and A Belfast Story. Colin Farrell gets a great opening (with excellent use of 'Out of Control' by U2 – so exciting for an Irish film at the time and now, in retrospect, so optimistic) but he is surprisingly kept largely to the background until towards the end of the film.
What is so likable about Intermission though is the fact that it avoids the cool style and 'funny' violence that was so in vogue at the time that the film was made, preferring a light tone and a hand-held feel, making it a film about people, not trendy pop culture references, crime and violence. It is, more than anything else, a comedy and a rather funny one at that, though it is one that doesn't avoid the more harrowing and gritty side of life on the streets of Dublin – the mean streets, as Meaney's Lynch prefers to call them, though only to heighten his own hard-as-nails image.
As the film plays out, it becomes unclear what exactly the unifying theme behind the whole thing is, but by then, it also ceases to matter. It ends up being a small and really rather charming film – not wholly successful but certainly good enough – a pleasant surprise given the poster that was very suggestive of

Trainspotting

and

Snatch. In the end, its primary value is that it is entertaining, full of good performances from a whole pile of recognisable faces (I didn't even mention Tom Murphy, Conleth Hill, Laurence Kinlan and Ruth McCabe). It is mostly light, fairly unexpected and quite a bit of fun. And with a major stunt that was said to be the most expensive thing in Irish cinema at the time.