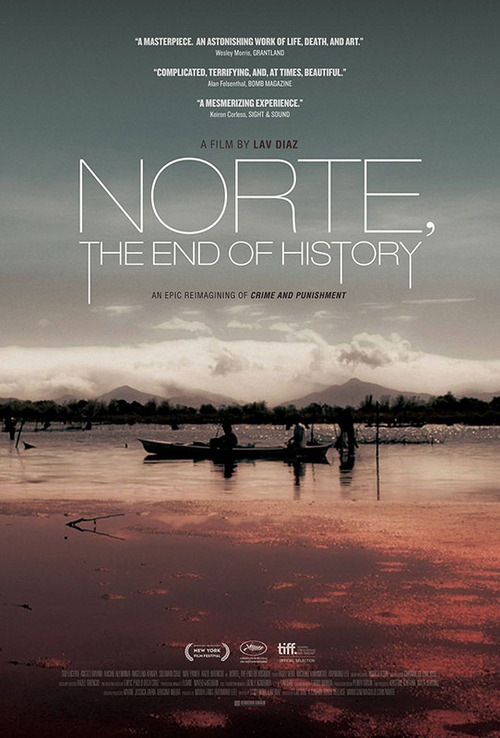 There is very little than cinema should not do – as an art form, any innovation or experiment ought to be welcomed as an attempt at finding a new means of expression. 'Slow cinema' is one such innovation, in which the pace of a film leaves the audience opens to experiencing the quotidian reality of the characters in the film. Put badly, it is cinema with the boring bits left in. Lav Diaz is one of the key exponents of 'slow cinema' and his work stretches this idea as far as many of us will comfortably go. Norte, The End of History, at 250 minutes, is one of his shortest films.
A modern re-working of Dostoevsky's Crime and Punishment, the film, set in the northern Philippines, initially follows Fabian (Sid Lucero), a student who has dropped out of law school, having fallen victim to certain socio-political, historical and philosophical contradictions which the law cannot shed light on. He suggests the answer to the world's problems is a revolution, a real revolution in which the activists carry out violence rather than simply talk about it. His friends do not agree, so, isolated and confused, Fabian embarks on a murderous spree, wholly misdirected and totally pointless. A poor man, Joaquin (Archie Alemania) is imprisoned for the crime, leaving his wife Eliza (Angeli Bayani) and their two children destitute. The consequences of Fabian's actions play out over a number of years.
The length and the pace will grab the headlines but there is more to Norte, The End of History than its challenging aesthetics. It is worth mentioning, however, that the film is frequently beautiful to look at and somehow hypnotic – time ceases to matter as the film's images somehow wash over you and you are immersed in a way that makes the drama all the more moving and the violence all the more shocking. There is a certain reality to the film, which a much shorter film could not capture so easily. The weight of Eliza's everyday life is seen in stark detail, while Fabian's wanderings take on a powerfully nihilistic feel. A shorter, pacier film will move from plot point to plot point, but Diaz' film has its own special appeal in the way that he captures life playing out. It is neither exciting nor boring, it just is.
Norte, The End of History delves into the same themes as Dostoevsky's Crime and Punishment albeit with a modern and specifically Asian re-reading. The film opens with a discussion of the end of history – capitalism and the West have won – and ends with the question, "What now?" For Fabian, an unfair and Godless world can be changed only by violence. His crime is pathetically misdirected and local and only manages to harm his neighbours. While it only adds to the suffering of Eliza and Joaquin, it devastates Fabian. Eliza and Joaquin have a different view of life, one of work and family and togetherness, a view of life in stark contrast to the laid-back musings of Fabian and his friends. They ultimately survive thanks to their love for each other and their ability to work their way out of their problems. Fabian, however, having got away with murder, is a broken man, wracked by quilt and yet too much of a coward to confess his crime and ensure Joaquin's freedom. For him, the world is a cruel place and there is no such thing as justice. Equally devastatingly, he has lost any sense of his own self-worth, having become one of the lowest of the low. The film addresses moral, societal, political and philosophical questions – some specific to the Philippines and some of a global nature – and finds answers in a panoramic view of life and time.
However, the film is not without its flaws and these flaws are ultimately down to the film's aesthetics – it is, after all, difficult to entirely divorce any question of the film's value from its rigorous and experimental style. Lav Diaz takes 250 minutes to come to his conclusions and yet Norte, The End of History does not extend even as far as Dostoevsky's novel and Woody Allen's best and most thoughtful film, Crimes and Misdemeanors. The politics is fairly slight, presumably intended only as the modern-day equivalent of the semi-Nietzschean philosophy in Dostoevsky's novel whereas the comparisons between Western capitalism with a heartless and exploitative moneylender is obvious. The film is certainly worth seeing and its hypnotic vision of everyday life is interesting and intriguing but it is difficult to feel as if anything more can be gained from this kind of filmmaking. Norte, The End of History has even been accused of being the work of a sell-out, that Diaz' usual rigour has been watered down for commercial gain (the film is the first of Diaz' many films to get a UK release). A greater knowledge of Diaz' cinema may help answer this question, but, taking into account only Norte, The End of History, there seems to be something rewarding and something lazy about Diaz' aesthetics. It imparts a fascinating and wholly believable vision of everyday life, but it does not do much more than that, paying only surface attention to the ideas it addresses. The pursuit of truth or, at least, a close resemblance to the feel of everyday life is hard to do (and, in a sense, 250 minutes is still far too short a time to properly cover the years that the narrative encompasses) and Norte, The End of History is a little simplistic and one-note.
Norte, The End of History is certainly a film worth seeing. It is a powerful drama, often very moving and thought-provoking. On first viewing, it is interesting, artless, hypnotic, irritating, satisfying and disappointing – far from perfect but a good example of experimental cinema.